A Remarkable and Busy Session
The 2019 Regular Session of the Alabama Legislature was incredibly busy and productive. Over 500 bills were signed by Governor Ivey to hopefully improve the lives of Alabamians for years to come.
Senator Jabo Waggoner, who has served in the Alabama Legislature since 1966, summed up the 2019 Session accurately when he said, "This [was] one of the toughest sessions ever … it has been a gut check this year, it really has, as far as tough impactful votes. [But] as far as high profile issues, this session probably ranks No. 1 in my career."
The Alabama Legislature fulfilled its primary constitutional duty in passing two of the largest Education Trust Fund and General Fund budgets in state history, largely due to a booming economy and the state's growth in business.
The FY20 Education budget will provide:
- a 4% pay raise for educational employees
- an additional $26.8 million funding increase to Alabama's excelling Pre-K programs
- $20 million for rural broadband expansion
- $15 million for transportation programs
- $2 million in funding to the Alabama Reading Initiative
The FY20 General Fund budget will provide:
- funds to hire 50 additional state troopers
- pay raises for correctional officers
- resources to hire additional correctional officers
- a 2% pay raise for state employees
- a $9 million funding increase for the Department of Mental Health
Other bills that were passed include: a pro-life bill to protect the unborn, the Rebuild Alabama Plan, a bill strengthening the Permanent Joint Transportation Committee, a bill terminating parental rights of parents convicted of rape or incest, a notification expansion for convicts escancing from halfway homes, the left-lane driving bill, a Constitutional Amendment for an appointed State Board of Education, the creation of religious study elective courses in schools, a bill requiring schools to recite the Pledge of Allegiance, a bill allowing public schools to donate surplus food to needy students, an increase in food allowance for prisoners, revisions to the Pardons and Paroles Board, the Alabama Incentives Modernization Act to provide tax incentives for businesses in rural communities, and a bill to allow the registration of apprenticeship programs through the new Alabama Office of Apprenticeships.
Proposals that did not pass include: a state lottery, permitless carry, marijuana decriminalization, payday loan extensions, mandatory kindergarten, hands-free driving, a Tier III benefit retirement plan and advertising spaces on school buses.
With a strong governor and diligent efforts taken by the Legislature, over 500 bills out of the 1070 bills that were introduced passed.
The intensity of the 2019 session could not have been possible without your input, feedback, and your prayers. I am humbled and encouraged by your support. I sincerely want to thank you all for your efforts and investment in your state's government.
Moving forward to 2020, I would like to affirm that my office is always open and I am eager to hear from you if you have any questions about this year or have any needs you would like addressed as a constituent. You can do so by emailing me at clyde@clydechambliss.com.
Thank you for allowing me to represent you in Montgomery!
Amendment Two will make it crystal clear that the Alabama state constitution does not contain a right to an abortion, even as Roe v. Wade remains on the books at the federal level.
In 2000, the Tennessee Supreme Court struck down pro-life measures the Tennessee Legislature had passed. Tennessee's Supreme Court held that their state constitution provided even greater protections for abortion than Roe granted.
The passage of Amendment Two will help Alabama avoid Tennessee's fate, and prevent liberal activist judges from using state law to further the pro-abortion goals of Planned Parenthood.

How Amendment Two Will Appear on the November 6th Ballot:

"Proposing an amendment to the Constitution of Alabama of 1901, as amended; to declare and otherwise affirm that it is the public policy of this state to recognize and support the sanctity of unborn life and the rights of unborn children, most importantly the right to life in all manners and measures appropriate and lawful; and to provide that the constitution of this state does not protect the right to abortion or require the funding of abortion."

What Amendment Two Does:

Amendment Two will promote a culture of life in Alabama, by making it clear that the Alabama state constitution does not provide the right for an abortion.
Amendment Two provides the State Legislature with overwhelming justification for pursuing common-sense, pro-life measures, like bills to ban partial-birth abortion and the sale of fetal body parts.
When radical leftist groups like Planned Parenthood sue the Legislature for passing pro-life legislation, the State Attorney General's Office can use the passage of Amendment Two to show in court that the people of Alabama strongly stand in favor for protecting the sanctity of life.
Amendment Two does not —and cannot— overturn Roe v. Wade. That is a task that can only be accomplished by the Supreme Court or an amendment to the U.S. Constitution.

The Battle to Protect Life:

Planned Parenthood, the same radical leftist group that was investigated by the Department of Justice in 2017 for allegedly selling fetal body parts, has already started a shadowy political PAC to defeat Amendment Two — and the lies are piling up faster than you can count.
We must protect the sanctity of life — there is no more important issue.
In Psalms 139, David wrote: "For you formed my inward parts; you knitted me together in my mother's womb. I praise you, for I am fearfully and wonderfully made."
Amendment Two protects the sanctity of all life in Alabama, by ensuring that our God-given rights extend to our most defenseless citizens, unborn children.
With Neil Gorsuch and now Brett Kavanaugh sitting on the highest court, Amendment Two will ensure Alabama stands ready to undo the decades of damage caused by Roe v. Wade, if that precedent is overturned.
A Recap of the 2018 Session
The Republican legislative majority has dramatically cut the size of state government:
Conservative Republicans have worked hard to right-size government agencies, cut bloated departments, and privatize some functions of state government.
The number of state employees has gone down from 39,862 on January 1, 2011 (the year the Republican majority came to office) to 33, 978 in July 2018.
That's a cut of 15% in the state government workforce.
The Republican-led Legislature, working with Republican governors over the past 7 years, has cut more than $1 billion in annual state government spending.
Summary of the 2018 Legislative Session:
Conservatives in the state Legislature have delivered on their promises to Alabama taxpayers: we have cut taxes, slashed regulations on businesses, and the economy is thriving.
The state unemployment rate this June was 4.1%, down from 7.0% in June of 2013, and Alabama currently has the highest number of people working (2.09 million) ever recorded in our state history, according to the Department of Labor.
More work remains until every Alabamian who wants a job has one, but businesses and workers are flourishing as Republicans in Alabama work with President Trump to put American jobs first.
A center-piece of the Senate Republican "Fighting for Alabama" agenda, the Legislature this session passed a tax cut for lower and middle-income earners by increasing the income threshold for Alabamians who can claim the maximum exemption from state income taxes.
Alabama's working families will collectively save $40 million over the next ten years due to the Legislature's tax cut. Coupled with President Trump's tax break, Alabama families are finally getting real tax relief. (Alabama families will save an average of $21 annually from the state tax cut).
Senate Republicans are committed to ensuring that every student in every county in Alabama has access to a top-notch education. That's why we passed a $6.6 billion education budget for the coming year, the largest education budget since the great recession of 2008.
Quality teachers are essential to great education system: that's why we set aside money for a 2.5% pay raise for teachers and education support personnel, at a cost of $102 million to taxpayers. This is in addition to a 4% pay raise in 2016 for teachers.
The budget includes a $18.5 million increase for First Class, Alabama's nationally-recognized, volunteer pre-kindergarten program.

A UAB study showed that students who participated in First Class outperformed their peers in reading and math assessments. First Class, currently available in 941 classrooms, has been named the best pre-kindergarten program in the nation for eleven years in a row by the National Institute for Early Education Research.
The $18.5 million increase will help fund 107 new pre-k classrooms.

Every year, more of our lives rely on internet-based technology; it is imperative that America produce the smartest, most innovative cyber engineers in the world, and there is no reason a large number of them shouldn't come from Alabama.
That's why the Legislature moved to establish the Alabama School for Cyber Technology and Engineering, which will operate as a public magnet school for students in grades 7-12.

Any student from Alabama can apply for admittance. The school's first class will begin in August 2020, and the school, based in Huntsville, will eventually have an enrollment of approximately 300 students.

The Legislature approved a balanced General Fund budget ($2 billion) that includes no new taxes.

Public safety is a priority: that's why I supported a $3 million increase for ALEA to put 30 additional state troopers on the road.
The budget gives a 3% cost-of-living raise to state employees, the first COLA they have had in 10 years.
The Department of Corrections was given a $55 million increase to hire additional mental and medical health staffers (in response to lawsuits filed by the SPLC against the state, a liberal federal judge named Myron Thompson issued a court order forcing Corrections to hire additional mental health workers).
Mental Health's budget was increased by $8 million to help address the opioid crisis.

A strong housing market is a key indicator of a thriving economy. That's why the Legislature approved the First-Time Homebuyer and Second-Chance Savings Account to help new homeowners.

The Act establishes a tax-free savings account for first-time home buyers and for those re-entering the housing market, if they have not owned a home in ten years.
Money from the account can be used for a down payment and/or closing costs for a single-family dwelling. Deposits and earnings in the account cannot exceed $50,000 and qualified expenditures must be made within five years of opening the account.

SB179 establishes severe penalties for those found guilty of obstructing an investigation into human trafficking, which includes child sex trafficking, increasing the maximum offense to a Class A felony, with a minimum jail sentence of ten years.

Previously, the obstruction of an investigation into human trafficking was only a Class C felony – meaning conviction could result in merely one year in prison.
According to the Alabama Human Trafficking Task Force, the average age of sex trafficking victims is between 11-14 years old. It is estimated that two children are trafficked into sexual exploitation every minute.

Expanding access to broadband internet in rural Alabama is key to ensuring that all of our state shares in the recent economic growth. 800,000 people in Alabama are without access to a wired connection capable of 25mbps download speeds, and 276,000 people in Alabama don't have any wired internet providers available at all.
SB149 establishes the Broadband Accessibility Fund to award grants to telecommunications and cable companies that build broadband infrastructure in under-served areas.

The Alabama Department of Economic and Community Affairs will oversee the fund.
Alabama will further be helped by grants and loans from the federal government: this year, Congress, through an effort led by Representative Robert Aderholt, established a $600 million Broadband Pilot Program, which will enable applicants to finance a project by combining loans and grants to provide broadband to eligible rural counties.

The Legislature approved the Child Care Safety Act to increase safety reporting requirements for child daycare centers, while protecting faith-based daycare centers from being licensed by the state Department of Human Resources (DHR).

In August of 2017, five year-old Kamden Johnson died after being trapped in a van that belonged to the Community Nursery & Preschool Academy in Mobile. An employee of the preschool, which is run by Community Church Ministries and exempt from DHR licensure, has been charged with manslaughter.
In response to tragedies like these, Democrats pushed a measure in the 2017 session that would have required all daycare centers to be licensed, which would have meant church-based daycare centers would have to get a permission slip from DHR to operate.
The Child Care Safety Act passed this session strikes a careful balance between religious liberty and safety for children: conservatives preserved the licensure exemption for faith-based daycare centers, while all daycare centers, including faith-based ones, must carry liability insurance, conduct annual fire and health inspections, and do criminal background checks on employees.
Further, all daycare centers that receive federal or state funds must be licensed by DHR. (Faith-based daycare centers that don't receive government funds can still operate without having a DHR license.)
The Battle to Protect the Sanctity of Life
●Since the voters of Alabama elected conservatives to a majority in 2010, Republicans in the State Legislature have made protecting the sanctity of life a priority.
●This is in marked contrast to a state and national Democratic Party that is joined at the hip to radical pro-choice groups like Planned Parenthood. The Democratic Party has strongly opposed efforts by President Trump and Senator Mitch McConnell to defund Planned Parenthood, a group that has spent over $50 million on lobbying and campaigns since 2012.
The possible impeachment and eventual resignation of a governor has the tendency to create a gale wind that can quickly transform into a hurricane. Such a tempest was the setting for the 2017 session of the Alabama Legislature. The outcome – resignation, and now, a fresh start at the Capitol under Governor Kay Ivey – has been extensively covered in the media. Understandably, less ink has been spilled on the significant policy achievements of the legislative session, but Alabamians have a right to feel proud of the work done by their legislative representatives this past spring.
First, the basics: the Legislature fulfilled its primary constitutional duty by passing balanced budgets for the General Fund and the Education Trust Fund. Conservative Republican Legislators stood up for taxpayers by approving these budgets without any tax increases.
The Fiscal Year (FY) 2018 General Fund budget includes an increase of $3.3 million for the Alabama Law Enforcement Agency to put thirty new state troopers on the road. Of all the functions of state government, public safety is paramount, and I was glad to support the targeted increase for state troopers. The budget also increases funding for the courts, including for juvenile probation officers, some of whom who were in danger of being laid off. Meanwhile, most of the large state agencies including Medicaid, Corrections, and the Department of Human Resources were level-funded.
Since Alabamians elected a Republican majority the House and Senate in 2010, fiscal discipline has defined the budgeting process for both state agencies and our schools and universities. For example, in 2011 the Legislature established the Rolling Reserve Act, which forces the Legislature to annually set aside a portion of the Education budget's revenue growth in an emergency fund. Because of that fiscal discipline, proration – the sudden, mid-year slashing of school budgets – hasn't occurred since 2010.
The FY 2018 Education budget is the beneficiary of such disciplined spending over the past seven years. At $6.4 billion, it is the largest Education budget since 2008, and provides funding for one hundred and fifty additional teachers, along with a $13 million increase to build one hundred and twenty-two new classrooms for First Class, Alabama's voluntary Pre-K program, which was recently named the best Pre-K system in the nation by the National Institute for Early Education Research. I was also happy to support an increase of $11 million for dual enrollment programs, which are essential for giving our students the real-world tools they will need for employment after graduation.
Along with the budgets, the Legislature passed a number of substantive bills, including: autism therapy insurance coverage, a Constitutional Amendment declaring Alabama a right-to-life state, religious freedom protections for faith-based adoption agencies, a ban on assisted suicide, a bill to require civics testing, a protection of historic monuments, a measure to shorten death penalty appeals, the legalization of midwifery, a tax credit for the revitalization of historic buildings, and an update to the Alabama Jobs Act to give cities more flexibility when recruiting new businesses.
All in all, 1,030 bills were introduced and approximately three hundred were passed by both chambers of the Legislature and sent to the Governor's desk.
Despite headwinds, I am encouraged that conservatives in the Alabama Senate and House led the way in in moving our state forward during the 2017 session. I am proud of our work and I am grateful for the strong leadership of Governor Ivey.
Thank you for allowing me to represent you in Montgomery!
The 2017 session of the Alabama Legislature is coming to a close, and as I reflect on the challenges we faced over the past year, I am proud of the way the Legislature has worked through many difficult issues: preparing for the possible impeachment of a sitting Governor, maintaining focus by passing balanced budgets that did not raise taxes on the hard-working families of Alabama, and developing a prison construction plan, to name just a few. I am thankful, too, for the steady leadership of our new Governor, Kay Ivey, and I trust she will continue to lead our state with dignity.
Looking forward, for Alabama to prosper, it is essential that conservatives continue to press for reforms in our state's finances. A key challenge in dealing with state budgets is that over 90% of tax revenues are earmarked for specific programs and departments, a level far higher than the average of 30% for the other forty-nine states.
Further, tax collections for both budgets are reduced by approximately $4.5 billion annually via hundreds of tax credits, exemptions, and deductions. The goal of many of these credits and exemptions is to promote economic growth and encourage certain market behaviors: for example, there are credits to encourage young dentists, doctors, and nurses to practice in rural areas, which is commendable – but I suspect many other credits and deductions have outlived their usefulness and should be revisited.
For the past six months, I have led a team of Republican and Democratic legislators who are attempting to find innovative solutions to our state's budget challenges. Like many government committees, the team has a bland name (The Joint Task Force on Budget Reform), but our mission is serious and our work has been deep.
On May 16, our team finished a 33-page interim report that examines the state's fiscal challenges and offers some tentative recommendations. For one, we recommend that every new tax deduction or exemption contain a sunset clause. Further, our committee believes spending on state services must be prioritized. Similar to other states, Alabama should identify spending priorities on an A-B-C scale.
Governor Ivey has indicated strong support for our team's mission, and I am excited to implement some of our ideas in the 2018 legislative session. The full report can be viewed on the Legislative Fiscal Office's website, www.lfo.state.al.us, under the Special Reports tab.
Ultimately, the financial success of our state will occur via a combination of prioritizing the services needed by our citizens and preparing for lean years by building financial reserves during expanding economic times. Working together, we will make this happen!
There is a rising wave of violence in Alabama's prisons. Recently in Elmore County, three inmates were killed by other prisoners in a ten-day period. In March of last year, the warden of Holman Prison in Atmore was stabbed by an inmate during a riot. A few months later, corrections officer Kenneth Bettis was stabbed and killed by an inmate at the same prison. Mr. Bettis was a decorated Army veteran who served with the Alabama Army National Guard in Iraq. Overcrowding – Alabama's prisons are 173% above capacity – has created this dangerous situation and it places our dedicated corrections officers in harm's way.
A federal takeover of the Department of Corrections is a realistic threat if we don't get our house in order. Consider California: in 2011, the U.S. Supreme Court found that California's overcrowded prisons represented a violation of the Eighth Amendment's prohibition against cruel and unusual punishment and the Court ordered the state to lower its prison capacity to 137.5%. A panel of three federal judges oversees California's prison system to ensure compliance with the order, and compliance has ripped a gaping hole in California's budget and prostrated the state's autonomy under the federal court's crushing oversight. The panel ordered the state to release 46,000 prisoners to reduce overcrowding, and California has spent over $1 billion in compliance costs.
Last year, the Alabama Legislature started work on a prison reform bill to update our dilapidated correctional facilities and avoid California's miserable plight. Governor Bentley proposed an $800 million construction program, which was met with many questions. Since then, I have worked closely with stakeholders to develop a program that protects taxpayers and solves our unsafe, overcrowded prison problem. Last week, my fellow members of the State Senate and I passed a prison reform bill that does just that.
Senate Bill 302 allows for three new prisons, reducing the overcrowding problem and increasing the safety of our corrections officers and wardens. It should also decrease recidivism — the cycle of prison re-entry­ — by allowing appropriate facilities for the programs so desperately needed by those about to be released.
The legislation includes local communities by allowing them to participate in the process, thereby controlling their own destiny, instead of a top-down approach where the Legislature picks who gets a state prison and who does not. It also removes the design-build components of the proposal, which concerned many.
The status quo is our most expensive self-imposed option. If we don't build new prisons, the courts are going to force us to do so and that will cost much more than if we do it ourselves. Modern, circular designs are more cost-effective to operate than existing dormitory-style jails, and we will repurpose currently appropriated dollars to pay for the cost of the new prisons.
Correctional officers like Kenneth Bettis protect us from criminals and deserve to return home to their families each night. These individuals should not be at the constant threat of injury or death because the state does not have adequate prison space. We also have a responsibility to protect prisoners from each other: getting beat to death in prison while serving out a sentence is not justice.
For these reasons, I was proud to participate in the drafting of this legislation and I look forward to the House of Representatives sending it on to the Governor after they debate the bill.
In 2014, there were around 400,000 children in the foster care system in America. Ten percent of those children had been in the system for more than five years. At a time when so many foster children need stable "forever homes," it is imperative the state of Alabama allow faith-based adoption agencies to do their work unhindered by legal obstruction.
In the state of Massachusetts, the Catholic Charities of Boston had for more than one hundred years been a vital link between foster children and permanent families. Unfortunately, beginning in 2003, the state of Massachusetts began to require all private adoption agencies to adopt a policy of non-discrimination that included same-sex couples. What did that mean in practice? Well, private adoption agencies like the Catholic Charities of Boston were forced to either abandon their beliefs or close. If a private adoption agency refused to place children with same-sex couples, the state would revoke its state license. As Ryan Anderson and Sarah Torre document in "Adoption, Foster Care, and Conscience Protection," the Charity was forced to shutter its ministry, rather than abandon the Christian teaching on marriage and the family.
Media elites in Hollywood and academia are often bent on attacking traditional Christian values as bigoted. Somehow, the contention that children fare best with a mother and father is backwards and hateful. There is a coordinated effort to attack the religious liberties of Christians (and all others who hold to mainstream views on the family) in the marketplace. But the First Amendment guarantees the right to the free exercise of religion, and that right extends to faith-based adoption agencies.
Thankfully, the Alabama Senate has taken a common-sense step to protect the religious freedoms of adoption agency workers. We passed the Child Placing Inclusion Act, which forbids state agencies from discriminating against child-placing agencies because the agency declines to provide a child placement which conflicts with the religious beliefs of the provider. Keep in mind that seventy percent of all placements are made by the Department of Human Resources, and by court ruling, state agencies cannot discriminate. However, a private, faith-based adoption agency should not be forced, at the risk of losing its government license, to place children in situations that are not consistent with their religious convictions.
There are so many children who are yearning for good homes. Given that close to thirty percent of adoptions in Alabama are facilitated through faith-based agencies, we need to encourage even more faith-based ministries to open their hearts and hands to foster children, and guard against petty bureaucratic attempts to squash the good work done by faith-based adoption agencies across Alabama.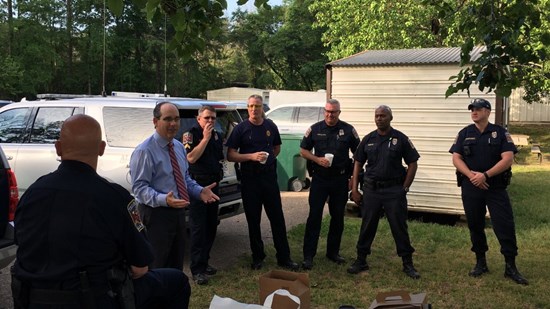 Officer Justin "Sollo" Sollohub's Wednesday started no differently than any other. The alarm clock went off at the same time. He got ready, put on his uniform, and bounded out the side door to hop in his car and head to the station, taking the same route he normally took. Like clockwork, Ms. Wright was taking a jog with her golden retriever. Traffic was starting to pick up as the late-night shift workers headed home.
Things were going well for Officer Sollohub on the shift until 11:00am, when things changed forever. A man was walking down the street, and something didn't look right to Sollo. That's when the foot chase ensued. The man ran into a neighborhood and disappeared behind a house, as Sollohub followed.
As Officer Sollohub turned the back corner of the home, the suspect intentionally and maliciously shot him in the head. Another police officer found him and tried treating the fatal wound. Sadly, Sollo did not survive.
It is for this brave man and many like him who sacrificed their lives on the front lines of protecting us that I introduced the Justin David Sollohub Law. Senate Bill 207 will increase the penalty for assault or murder of law enforcement officers, firefighters, paramedics, emergency medical technicians, and correctional officers.
I would like to express my personal appreciation to Clanton Police Department Captain Neil Fetner for spearheading this effort. We owe it to our hometown heroes to provide them with enhanced deterrence against harm when they lay their lives on the line for us every day. We must do everything we can to hold those accountable that seek to harm our policemen, sheriff deputies, prison staff, and other first responders. They protect us, so we must do everything we can to protect them.
Passing Senate Bill 207 is one of my priorities this legislative session that started a few weeks ago and will go until mid-May. If I can be of help to you or if you have concerns or questions about any bill, email me at clyde.chambliss@alsenate.gov or call my office in Montgomery – (334) 242-7872.
I am thankful and honored to represent you in the Alabama Senate. I was elected to the Senate in 2014, and the past year and a half has been quite interesting: an organizational session, two regular sessions, two special sessions…and the possibility of another special session this year!
Despite a number of political distractions, the Legislature had a productive session this year. Here are ten highlights:
The budgets were passed early this year. This is "the only" Constitutional duty of the Legislature and I'm excited that we have flipped the calendar. Postponing the budget was done for a myriad of reasons (and not all of them bad) for decades. But passing budgets early in the session is a tremendous improvement over the status quo, and a big goal accomplished for me.
We have also changed the status quo from across-the-board cuts to using a scalpel for targeted spending adjustments based on priority. Some agencies were cut, some were level-funded, and some were increased. Those increased include the National Guard, Courts, Corrections, Public Health, Mental Health, DHR, and Medicaid.
Medicaid was increased by $15M but falls $85M short of the requested $100M. We have shifted money from the essential functions of government for years and we cannot continue to do so. Medicaid is still an issue and we have held five of seven scheduled Medicaid hearings to figure out what the Legislature can do to control costs.
Increased education funding for textbooks, classroom materials, dual enrollment, and transportation. Also increased funding for Alabama's voluntary pre-K program by $16M to fund 2,790 new students.
Teachers received a much needed cost of living adjustment (COLA). I supported the raise after I did my homework. The wage of the average worker in Alabama increased by 13% from 2008 to 2015, while the average state employee's wage increased by 5% from 2008 to 2013. Yet the average K-12 employee's wage increased only by 2.5% from 2008 to 2013. Supporting this COLA was a priority for me because investment in education is vitally important.
Passed a Constitutional Amendment for the November ballot that will require all funds collected at State Parks be used for State Parks. I supported this legislation and urge a "Yes" vote in November. State Parks are a tremendous asset for our state and bring in significant tourist dollars.
There were several bills that were passed to protect young people. I sponsored legislation that makes aggravated abuse of a child under the age of six a Class A felony. We also passed legislation expanding suicide awareness training and prevention in K-12 schools and a law allowing District Attorneys to pursue capital murder charges if abuse of a child results in death.
We passed a bill to allow Alabama taxpayers to deduct contributions to Health Savings Accounts on personal state tax returns.
I supported and we passed two economic incentives bills that will help increase jobs in Alabama.
Banned the brutal practice of dismemberment abortions. Also, prohibited Public Health from issuing or renewing licenses for abortion clinics located within 2,000 feet of K-8 schools.
There were many other good bills in addition to those highlighted above. So, when it seems that all you are hearing are negative things in the press and on social media about our state's politics, please know there is a core group of good, honest, hard-working legislators in Montgomery working for you. God bless you, and may God continue to bless the great State of Alabama!
Senator Clyde Chambliss (R-Prattville) and Senator Dick Brewbaker (R-Pike Road) moved a bill through the Alabama Senate today to protect Alabama's drivers by increasing the penalty for persons who use a Stage II driver's license in violation of the law.
A Stage II license is for drivers under the age of 18 who have held a Stage I learner's permit for at least six months
Senate Bill 173, known as the "Deputy Hart Act," is named in memory of Elmore County Deputy James Bart Hart, who was killed on November 23, 2015, when a sixteen-year-old driver hit his car. The teenage driver was operating his vehicle at a speed of nearly 100 miles per hour and was carrying three non-family members as passengers, in violation of the restrictions on Stage II licenses. The teenage driver and two of his passengers were also killed.
"The car wreck resulting in the death of Deputy Hart and three teenagers was tragic. We need stiffer penalties in place to discourage reckless and unlawful driving among younger drivers," Chambliss said.
Under Chambliss and Brewbaker's legislation, violations of a Stage II license will lead to a fine of $250 plus court costs, and the violator's license will be bumped down to a Stage I learner's permit for six months.
"This is an enforcement mechanism that is long overdue," remarked Brewbaker. "God willing, this legislation will make our roads a little safer for everyone."
Parents or guardians who knowingly allow a driver with a Stage I or Stage II license in violation of the law will be subject to a fine of $500 plus court costs.
"We should certainly hold teenage drivers accountable, but parents also bear responsibility if they knowingly allow their kids to use a restricted license in violation of the law," Chambliss said.